I read from God's Word today in 1 John 1.  God's Word often amazes me with its wonderful wisdom.  Here are the passages that stuck with me from the English Standard Version (ESV):
from 1 john 1:1-2…."we have heard, which we have seen with our eyes, which we looked upon and have touched with our hands, concerning the word of life— 2 the life was made manifest, and we have seen it, and testify to it and proclaim to you the eternal life, which was with the Father and was made manifest to us—"
from 1 john 1:4 " And we are writing these things so that our joy may be complete."  Many bloggers write about their faith journey, their life struggles, their victories, and their defeats.  It is a wonderful world that I have discovered on the internet.  Blogging can be beautiful and so unique.  Many people share their stories in these free and paid for spaces…so that their joy may be complete.
I write for joy.  I write for the journey.  I write because it has become a hobby that I enjoy.  It is a part of my morning routine to read, write, and capture my mindset for the day.  As a wife, mother, friend, daughter, and neighbor…the day always holds interesting events.  I do not know what they are…even the things marked on our family calendar change.  Impromptu play dates occur, needed naps slip in, and chores abound.  My joy is complete though in knowing that I can start my day right here in this space with you.  There is a pressing of words at WordPress.  So many writers big and small find the joy in the journey to share, encourage, write, and read to change our hearts and minds.  What completes your joy?
Dear God,
You are Joy giver.
Forgive me when I forget that I cannot create my own joy. 
It is something that must be sought after with open ears, hands that hold other hands, hug, and serve.
Your joy is tough sometimes…it requires sacrifice, choices for balance, and choices for good.
We ask you to be with the people of our world.  We make tough choices daily.  There is war, there is famine; there is also peace and plenty.  Help us all to see the joy that is in Your Word, in worship, and in knowing that forgiveness rights our hearts.  We will fail, but you never will.
Amen.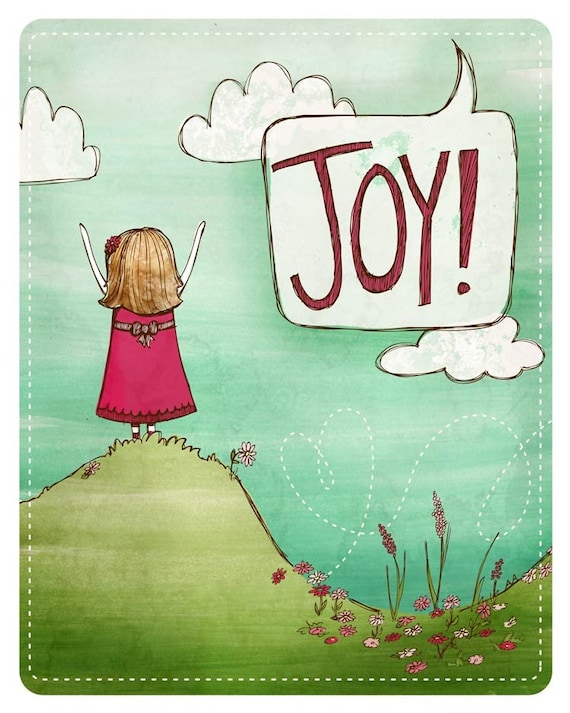 This print is available for purchase from Etsy by artist arian of the United States.